IES Electrical and LRS Associates are now in partnership to supply C-Pak Protective Devices (RCDs, RCBOs, MCBs & Isolators) to the Electrical Wholesale Market. C-Pak is a specialist provider of Low Voltage Circuit Protection Equipment and Accessories with over 50 years of experience in the marketplace.

All C-Pak Protective Devices meet IEC and CE standards with Intertek Certification.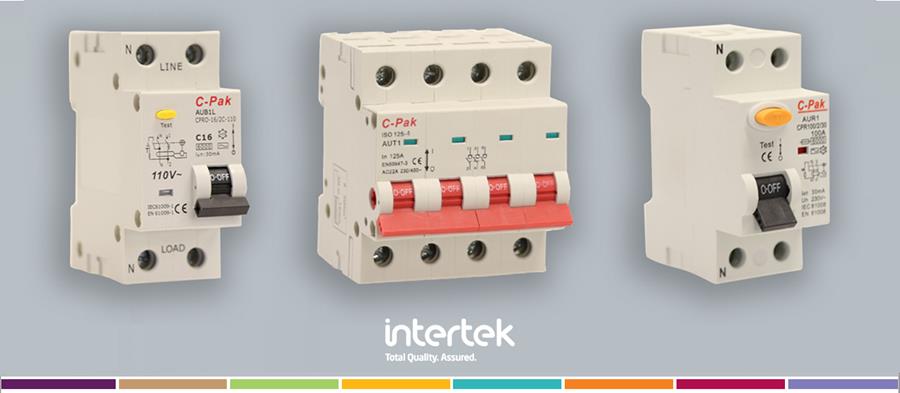 The increase and variation of electrical appliances have led to the need for different types of RCD Circuit Protection. This is reflected in the recent 18th Edition Regulations, specifically Regulation 531.3.3, which covers the issue of selecting the appropriate RCD for the application. RCBOs are Residual Current Breakers with Over-Current protection. They protect against two types of fault and combine the functionality of an MCB and RCD.
These come in three different types:
Type AC - Type AC detects 50/60Hz AC and is designed for general use.

Type A - These detect for pulsating DC residual current as well as AC current.

Type B - These detect 50/60Hz AC, High-Frequency AC, pulsating DC and smooth DC currents. Type B is designed to work with applications such as Electric Vehicle Chargers, Medical Devices and Solar Panels.
All RCDs & RCBO's meet IEC/EN61008-1+IEC/EN62423 Standards.

MCBs

Miniature Circuit Breakers (MCBs) automatically switch off the electrical circuit during an overload or short circuit. IES Electrical supply both C Curve and D Curve MCBs ranging from 6amp to 63amp and 1 Pole to 4 Pole.

Isolators

Isolators are devices used for isolating a circuit or equipment from a source of power, a mechanical switching device that connects and disconnects the power to a circuit. We have stock of 2, 3 and 4 Pole Isolators ranging from 63amp to 125amp.
For more information on the C-Pak range of Protective Devices along with all other enquiries, contact a member of our sales team on 0117 916 3688 or email us at info@iese.co.uk.