Ecology Enclosures are ideal for housing large distribution and supply boards. The generous space and 4 to 54 module capacity, allied with IP65-rated watertight protection, make this a superb all-round series.
In this month's blog, we delve deeper into the qualities of IDE's Ecology series, which is available now from IES Electrical.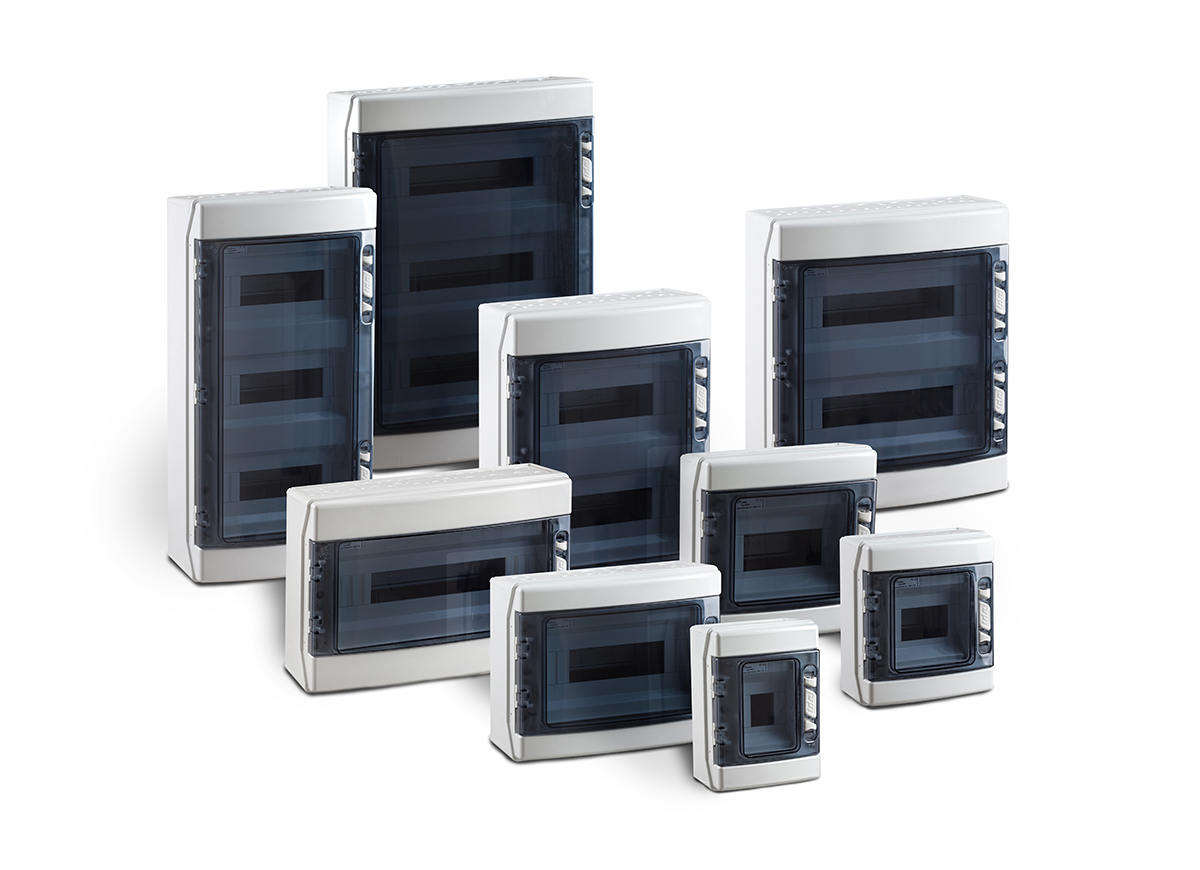 IP65- and IK08-rated
Ecology Enclosures have an IP65 rating, being dustproof and protecting against low pressure water jets from all directions, as well as spray, rain and condensation. The product even stands up to temporary water submersion at a depth of up to 1m. This makes it suitable for the majority of outdoor settings. Available in halogen-free ABS or Polycarbonate, tough Ecology Enclosures have recorded an IK08 resistance to impact. This is ample protection for a weight of up to 1.7kg dropped from a height of 300mm onto the surface.
UV protection and pressure-operated lock
All products in this Ecology Enclosure series possess PC windows that offer UV protection. These tinted, transparent front panels are able to protect electrical elements inside against damage from light. There is reversible 180° horizontal window opening, with the exception of the CDN4G model, that offers 90° vertical opening. A new lock design offers pressure-operated opening and closing, and there is the option of a triangular or key lock replacement.
Dependable frame and base
The stability of these enclosures is underpinned by a double height base, which offers more room for the installation of wiring and devices. There is rib reinforcement for optimum rigidity and both the top and bottom sections provide cut outs for M20, M25, M32 and M40 metric cables. Supports for fixing the earth and neutral bars are provided, as well as DIN rail housings for the securing of rails and mounting plates. The unyielding frame is also double height, and the frame-base unit is completely sealed with power screws and a covering gasket, assuring IP protection.
Accessories and assembly
Securely bundled together in individual packaging, Ecology Enclosures are accompanied by an accessory bag containing hermetic caps, cover-base locking screws, module identification strips, and a grey module cover. The product offers an option of two wall mounting systems; with four screws via the hermetic cap-covered housings at bottom of base, or through the holes which secure the frame base
What else?
Along with their outstanding durability and impact resistance, Ecology Enclosures offer Class II double insulation and a glow wire resistance of 650 °C. They can perform in an ambient temperature range of 25 °C to +40 °C, and are LVD-compliant.
IDE Excellence
The Ecology Enclosure series is designed and manufactured by world renowned IDE Electric. This Spanish company is recognised by the trade for the innovation and reliability of its solutions for low voltage industrial applications, including electricity distribution enclosures. Ecology Enclosures are certified by VDE.
Enquire about Ecology Enclosures today. Call 0845 226 7125 or email us at info@iese.co.uk
Browse other top European brands in our IES Electrical product range