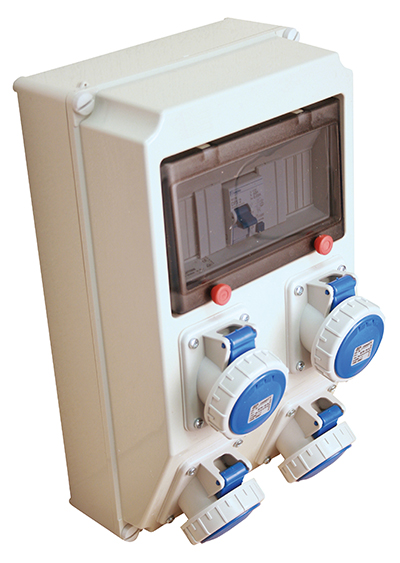 Combination Distribution Boards from IES offer electrical installers the invaluable benefits of precise pre-assembly. From factory settings to temporary sites and homes – wherever power distribution is needed, Combination Distribution Boards save time for installers with bespoke configurations.
In this blog, we will present the advantages of IES Distribution Boards, and detail the IDE electrical enclosure range that is used for production.
Perfect for planning; ready for installation
IES configures distribution boxes to installers' requirements, readying them for installation in a broad variety of applications. Our time-saving service wires electrical enclosures with single or multiple sockets; ideal for building information management systems that allow wiring to be planned out in advance.
The potential advantages of our Combination Distribution Boards for pre-assembled power distribution systems are numerous, including; economising on space during construction planning; shortening construction timelines; reducing the risk of delays and cost overruns; supporting more environmentally-friendly building strategies; and ultimately, simplifying installation.
Let's look at the type of bespoke Combination Distribution Boards we offer at IES. We can provide any assembly combination in the following units:
IP67 enclosures with assembled and wired sockets
We offer Distribution Boards with assembled and wired power sockets using IDE IP67 enclosures. Select between surface enclosure capacity of 9, 13 and 26 modules. These units come with transparent windows that are PC tinted and offer UV protection. The boxes are recommended for outdoor and industrial environments, particularly locations that require substantial protection against splashes, dust and impacts, such as swimming pools, garages and docks.
IP65 enclosures with assembled and wired sockets
Our pre-assembled and wired Distribution Boards using IDE IP65 enclosures offer a surface enclosure capacity of 4, 6, 8, 12, 18 or 24 modules. Manufactured from halogen-free plastic materials, their transparent, PC tinted windows provide UV protection. A wide range of power sockets and protections are available for selection depending on usage requirements. Their IP65 rating makes them certified to protect against low pressure water jets and dust, while an IKO8 impact resistance rating can withstand a weight of 1.7kg dropped from a height of 300mm.
Plastic site panels
You can also choose to utilise IES Distribution Boards for site panels models with the IDE PRYMA IP67 and Star IP65 enclosure ranges. The PRYMA models offer an 8, 12 and 24 module capacity with a transparent window, while the STAR models offer a 26, 39, 52 or 56 module capacity with a transparent window. Assembly can include combinations of wired interlocking sockets, IP67 Schuko-type sockets, protections and an emergency push-button.
Junction boxes with power sockets
You can also utilise our junction box range, which offers an IP67 series of assemblies with standard power sockets. Made from halogen-free plastic materials, the three largest models are available in a transparent PC-tinted cover or opaque shock-proof cover.
Speedy solutions for bespoke project requirements
With expert engineers and a custom build facility, IES contrives to offer a high quality solution for customer electrical distribution board requirements.
For more information about our bespoke distribution board service click here – alternatively, call 0117 916 3688 or email info@iese.co.uk