From industrial locations to warehouses, workshops, depots and construction sites – IDE PRYMA Enclosures can be critical to the installation of power points for fixed machinery or portable tools. This halogen-free series offers exceptionally high durability, being ideal for the housing of power sockets, control elements and signalling apparatus.
In this article, we shine a spotlight on IDE PRYMA Enclosures' numerous qualities.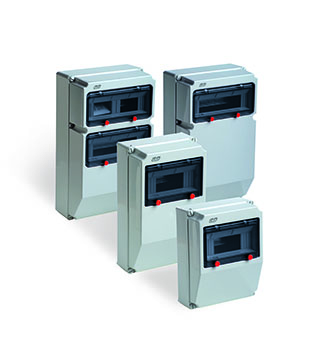 Protection and resistance
IDE PRYMA Enclosures – which are available with a 9, 13 or 26 module capacity – are IP67-rated; offering 100 per cent protection against solid objects such as sand and dust, while having been tested to work underwater for at least 30 minutes. Manufactured from ultra-strong plastic materials, the product offers an IK08 resistance to impact, providing protection against the equivalent of 1.7kg dropped from 300mm above the impacted surface. You can also count on a glow wire resistance of 650 °C, Class II double insulation, and maximum operating voltage of 1000 V AC/1500 V DC.
Transparent window with UV protection
The transparent, tinted PC windows which are a feature of all IDE PRYMA Enclosures offer UV protection, safeguarding electrical elements from potential damage from natural light and lighting systems. These windows are able to guarantee the IP protection of the assembly, being pressed to the sealing gasket. Padlock support is offered as an optional accessory.
Simply assembled and wall mountable
IDE PRYMA Enclosures are supplied with rails and accompanying accessories, coming in a bundle containing all supports and screws necessary for straightforward assembly. Clear assembly instructions are provided, along with module identification strips. Depending on the model, IDE PRYMA Enclosures can be secured to the wall via screws placed in locking screw housings (67TC09), or wall mounted directly from housings located at the base (67TC13 and 67TC26). Dielectric strength and protection are assured thanks to watertight caps for these housings, which are provided in the accompanying accessories bag.
High performance frame and base
The frame of IDE PRYMA Enclosures offers secure placement for power sockets in its blank areas – one positioned vertically, and another at a 30° to prevent the crossing of cable bundles. Dependable protection from water and dust is guaranteed by the frame perimeter's sealing gasket, while rigidity is assured by reinforcement ribs structured within the frame's interior. The base is comprised of four perfectly flat walls which are ideal for the installation of smaller elements such as pushbuttons and pilot lights. The bottom of the base offers supports and housings for the attachment of neutral bars, earth bars and the DIN rail. A frame-base hinge system provides enhanced manoeuvrability between the parts.
Manufactured by IDE
The PRYMA Enclosures range is manufactured by IDE Electric, a globally renowned producer of electricity distribution enclosures. The Spanish company is recognised for its innovative, quality solutions for a broad variety of low voltage industrial applications. IDE PRYMA Enclosures are certified by VDE.
Do you have any questions about IDE PRYMA Enclosures? Call 0117 916 3688 or email us at info@iese.co.uk
Browse top European brands in our IES Electrical product range today.