From factories to warehouses, building sites and workshops; the STAR series of electrical enclosures has a broad range of surface applications, safeguarding electrical installations with halogen-free high-durability plastic.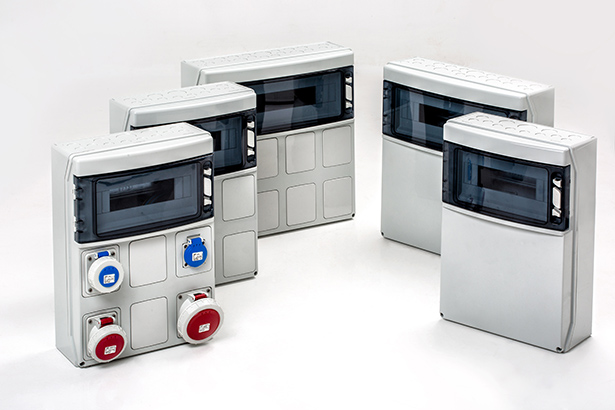 IP65-rated and ideal for the housing of power sockets or control and signalling elements, the STAR series combines intelligent design with optimum protection for industrial environments. In this blog, we will examine the numerous attributes of STAR Enclosures, which are available now from IES Electrical:
IP65- and IK08-rated
STAR Enclosures are IP65-rated, certified for protecting against low pressure water jets from any direction, and being dustproof. They can even handle temporary water submersion to a 1m depth. Their IK08-rated resistance to impact represents ample protection for a weight of up to 1.7kg dropped onto the surface from a height of up to 300mm.
UV protection and extensive capacity range
Each enclosure in the STAR series possesses PC-tinted transparent windows that offer UV protection. This can safeguard electrical elements inside the enclosure from potentially being damaged by light. The IP protection of the window's assembly is guaranteed by reinforcement ribs that provide rigidity. The STAR Enclosures range provides flexibility in terms of size; with a choice of a 4, 6, 9, 12, 18, 24 or 36 module capacity.
Rigid and protective frame and base
All types of sockets can be fitted within the frame of STAR Enclosures, which vary according to the size of the model. From the front of the box to the perimeter, the frame offers dust and water protection, and the frame-base unit is closed with supplied captive screws. The base for models from 12 modules upwards comes with a double height DIN rail that affords extra space inside the enclosure for wiring and devices. Thanks to knock-outs at the top and bottom side with standard metric diameters, pipe and cable entry can be accessed quickly with a screwdriver. At the bottom of the base, there are supports for the attachment of housings for the DIN rail, as well as earth and neutral bars.
Getting set up
STAR Enclosures are supplied securely in individual cardboard packaging, with items bundled together where appropriate. Enclosures come with hinges already attached to the base and windows already assembled on the cover. The accompanying accessory bag includes a grey module cover, base and cover screws, hermetic caps, module identification strips and cover-base hinges. Its frame-base hinge system is simple to assemble and disassemble by applying gentle pressure to the part's ends.
The ECO-STAR system
When large distribution or power panels are needed, STAR Enclosures' design makes them ideal for joint installation with Ecology series junction boxes. The ECO-STAR System allows the pairing of Ecology IP65-rated watertight distribution boxes and STAR IP65-rated industrial socket boxes, providing an internationally-certified, flexible solution for combining distribution boxes and power socket units.
What else?
Compliant with the Low Voltage Directive, STAR Enclosures are designed to operate in a 25 °C to +40 °C ambient temperature range. All models in the series possess a 650 °C glow wire resistance and Class II double insulation.
'STAR' of the IDE range
STAR Enclosures are designed and manufactured by IDE Electric, the world renowned provider of low voltage industrial application solutions. The Spanish company has earned a reputation for innovation and reliability within the trade, and its products are certified by VDE.
Enquire about STAR Enclosures. Call IES Electrical on 0117 916 3688 or email us at info@iese.co.uk
Browse other top European brands in our IES Electrical product range.